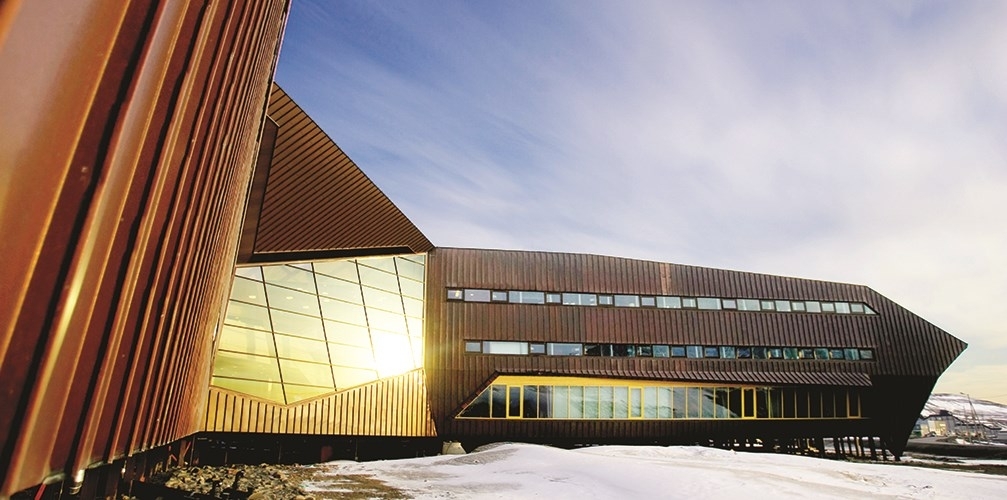 UNIS Universitetssenteret på Svalbard
Olafur Eliassons (IS/DK) lysinstallasjon i Universitetssenteret på Svalbard lyser opp mørketida med eit fargespel som minner om både nordlys, sollys og regnbogen.
Olafur Eliasson vart i 2004 beden om å lage eit kunstverk til Universitetssenteret på Svalbard (UNIS) med utgangspunkt i dei unike naturforholda i det arktiske området. Eliasson leverte eit lysbasert verk der eit sentralt kunstnarisk motiv hos han er tydeleg: spelet mellom lyset vi oppfattar, og det reelle lyset.
UNIS ligg i Longyearbyen på breiddegraden 78° nord og er dermed den nordlegaste utdanningsinstitusjonen i verda. UNIS tilbyr studium på alle nivå i arktisk biologi, geologi, geofysikk og teknologi. Rundt 700 studentar og nokre titals tilsette har sitt daglege verke ved skulen, og berre om lag halvparten er norske.
Så langt nord kan mørketida kjennest lang og tung for mange. Kanskje er det difor Eliasson har gjort lyset til hovudsak i kunstinstallasjonen – og det i fargar som fører tankane mot både nordlys, sollys og regnbogen.
Verket har fått tittelen "Light travels against your memory – Coming from the future continuing into your memory". Med det moderne skulebygget som instrument og vindaugsfasaden som linse kan ein sjå installasjonen som ein del av arkitekturen. Verket blir påverka av årstidene. I mørketida blir vindaugsflatene markert av lysspelet frå installasjonen. I sommarhalvåret er det det naturlege lyset og utsikta mot fjorden som dominerer.
Olafur Eliasson (f. 1967) er utdanna ved Det Kongelige Danske Kunstakademi i København. Arbeida hans finst i fleire private og offentlege samlingar, mellom anna Guggenheim Museum i New York og Museum of Contemporary Art i Los Angeles. Eit kjent verk av han i Noreg er relieffveggane inne i Operaen i Oslo.