Spådommer, tegntyding og fruktbarhet preget gammel juletradisjon. Skikken med julebukk henger trolig sammen med forestillinger om god avling. Julegeita i museets samling er ganske unik. I Norge finnes kun to av denne typen – en fra Vest-Agder og vår julegeit, som antakelig stammer fra Borge.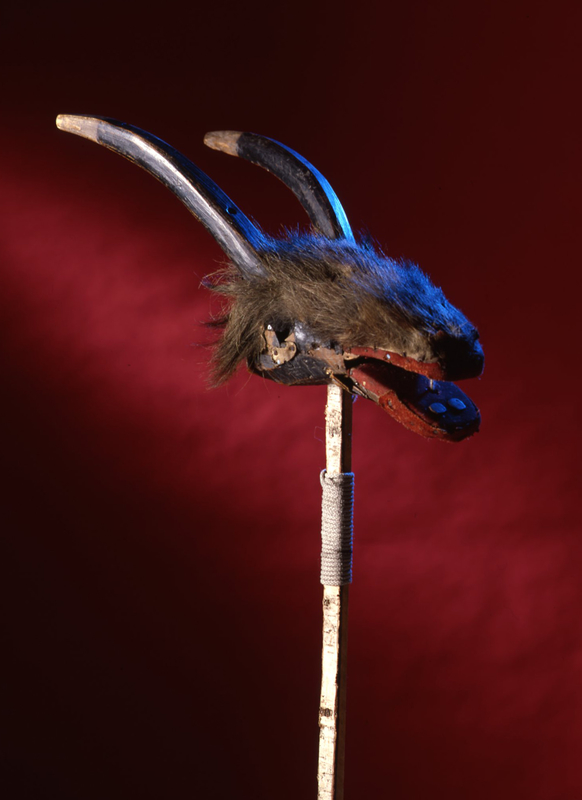 Å gå julebukk betegnet et opptog av utkledde, unge gutter. Man sotet fjeset eller opptrådte med masker av papp eller tøy, utskåret tre eller skinn. Selve julebukken bar ei maske utformet som hodet på ei geit, lik vår julegeit. Den er kledd med skinn, har to horn skåret av tre, øyne og bevegelig rødfarget kjeft. Kjeften beveges ved å dra i ei snor. Over skuldrene bar julebukken en skinnfell og stanga som hodet var festet til var ofte så lang at den også dannet hale. Beskrivelse av lignende julegeiter finnes bevart fra 1600-tallet. Vi finner paralleller i hele Skandinavia, og på kontinentet som f.eks. i Polen.
Gammel folketro forteller om en mystisk bukk som holdt til ute i naturen. Til jul kom den til gårds for å få mat. Når opptoget med julebukkene kom på besøk rundt om i gårdene, skulle de trakteres av julematen og julebrygget. Det utspant seg et lite drama idet julegeita, som ledet opptoget, falt død om. De andre i følget slo på den inntil den reiste seg igjen. Dette illustrerer kornbukkens død og oppstandelse til et nytt og livgivende år.
Skikken med julebukk er trolig sammensatt av flere elementer. Fruktbarhetssymbolet er ett, mens andre har fremholdt forestillingen om at julebukken var et skremmedyr og en del av åskorsreia, mens igjen andre har lagt vekt på julebukken som et element i en mer rituell handling. Fra middelalderen er vegen kort bakover til de hedenske tradisjonene hvor dyremasker ble benyttet under ulike seremonier eller feiringer. I hedensk tid var bukken et symbol på fruktbarhet og kraft. Tradisjonen med å gå julebukk er trolig forankret i disse hedenske skikker, men under tiden er innholdet forandret, eller gitt en annen betydning.
Skikken er i dag nesten glemt, men det er viktig å tradere gamle skikker – så oppfordringen til å gå julebukk er hermed gitt.
Flere julegeiter på DigitaltMuseum