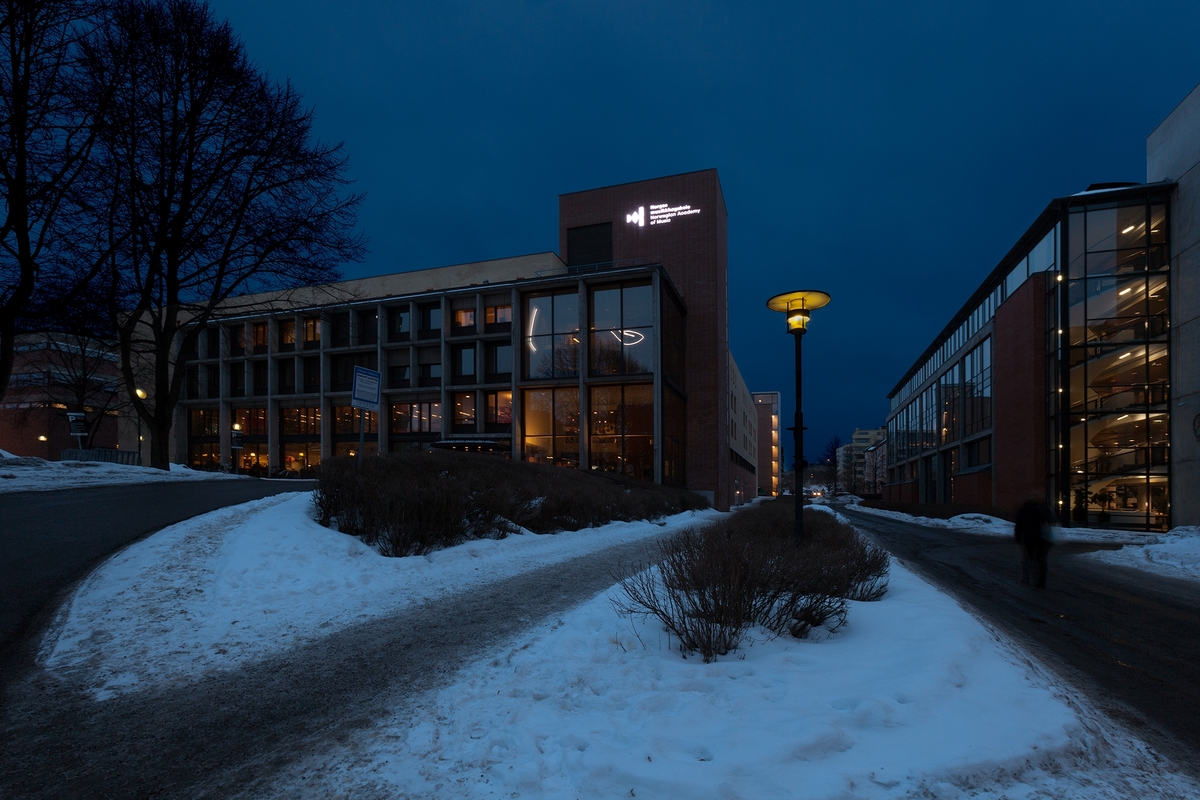 NMH Norges musikkhøgskole
I Brigitte Kowanz' lysinstallasjon er formen på verket bestemt av kodet tekst.
Norges musikkhøgskole hadde lenge ønsket å få en erstatning for Carl Nesjars lysutsmykning i «prismerommet» som måtte tas ned i 1996. Rommet, som er oppkalt etter Nesjars utsmykking, er hyppig brukt. Det går over to etasjer og åpner seg mot byen gjennom langveggen som utgjøres av store, åpne vindusflater. Det var nærliggende å velge en kunstner som nettopp har spesialisert seg på å jobbe med lys og rom.
Brigitte Kowanz' lysinstallasjon består av to separate neonverk, ett montert på vegg og ett som henger fra taket. I verket montert på vegg leser vi den norske setningen Den krypterte beskjeden i denne teksten konstruerer verkets form. I verket som folder seg ut i rommet kan vi følge den engelske setningen the enciphered message locked within these letters produces the emergence of its manifested form. Konseptet er det samme for begge verk: Verkets form bestemmes av teksten gjennom en enkel innskrevet binærkode (en måte å kode tekst, ved bruk av tallene 0 og 1). I verket på veggen svinger formen til venstre når bokstaven "v" forekommer. I det takhengte verket dreier verket til venstre ved "l" (left) og til høyre ved "r" (right). Denne selvreferansen skaper ulik kompleksitet; det norskspråklige verket har bare én retningsendring, mens den engelske delen har en mer avansert form.
Kowanz er opptatt av forbindelsen mellom språk, form og lys og de siste tre tiårene har hun jobbet med komplekse lys og skyggespill for a° skape skulpturer som leder tanken hen på bilder i rom. Hun benytter fluoriserende og fosforiserende pigmenter, fluoriserende lamper, speil og semitransparente glass. Bruken av binærkode her på NMH skaper forbindelse til musikkens verden der blant annet noter kan sies å utgjøre kodede systemer.
Brigitte Kowanz (f. 1957 i Wien) er en av Østerrikes mest anerkjente kunstnere. Hun har deltatt i en rekke prestisjetunge utstillinger og var i 2017 landets representant på Veneziabiennalen. Kowanz jobber i tillegg som professor ved Universität für angewandte kunst i Wien. Kunstprosjektet for NMH er hennes første i Norge.
Kunstprosjektet er ett av elleve i tildelingsrunde 9 (2015-2017) under kunstordningen LES, som er rettet mot statlige etater i private leiebygg og eldre statsbygg."the