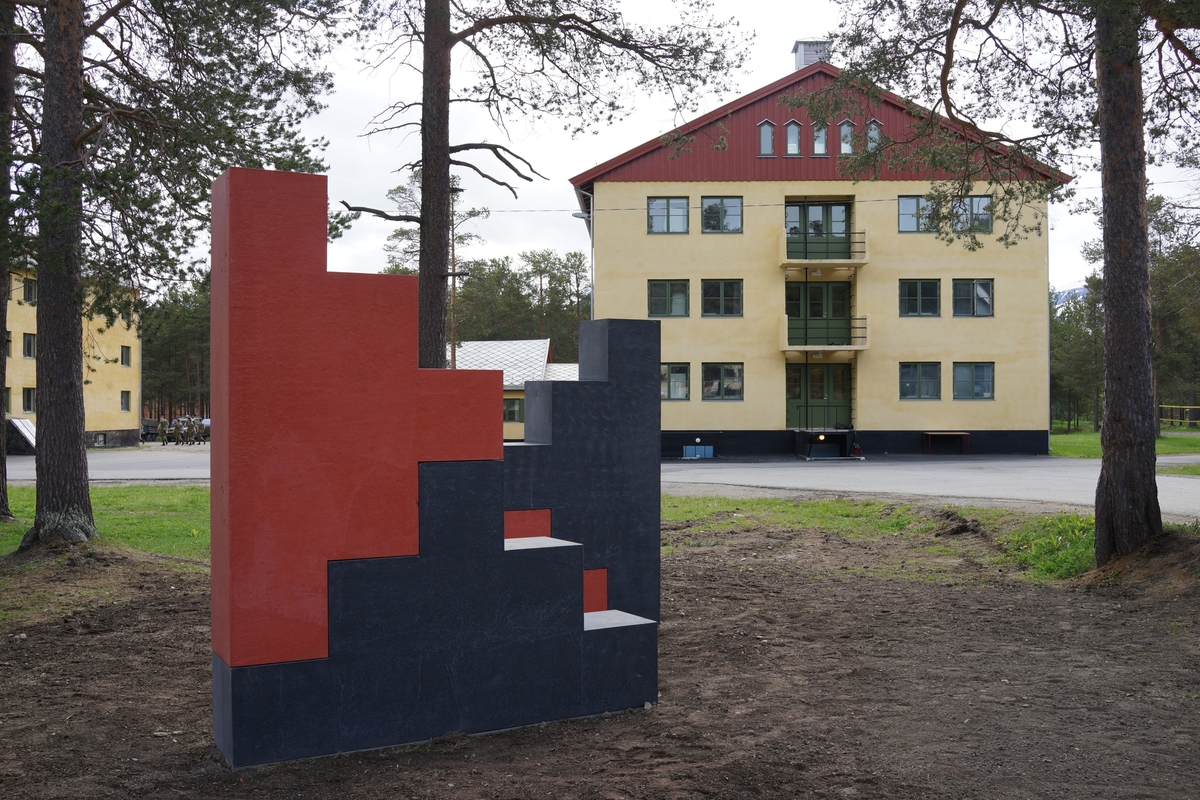 Skjold leir, kaserne Porsanger
Skulpturen "Echo" er skapt for å passe inn i miljøet i Skjold leir, og inviterer soldatene til å klatre eller sitte på den.
Skjold leir i indre Troms er omkranset av høye fjell, og under skytetrening kastes lyden frem og tilbake mellom fjellsidene. Det gav tittelen til Camilla Løws todelte skulptur "Echo".
Skulpturen står i en park i tilknytning til kaserne Porsanger. De seks kasernebyggene er tegnet av Herman Munthe-Kaas og er svært karakteristiske med sine firkantede vinduer og rene linjer. Skjold leir er avstengt fra sivilsamfunnet, dermed er målgruppen begrenset til soldater som stort sett er rundt 19 år. På grunn av de store temperaturforskjellene mellom sommer og vinter var det også viktig å lage en robust skulptur.
Skulpturen består av to deler i blåsvart og oransjerød. Fargene ble valgt med tanke på bygningene rundt, og den fargede betongen er taktil og behagelig å ta på. Kunstneren ønsket både at skulpturen skulle ha en kamuflasjefunksjon og at den skulle gi inntrykk av en optisk illusjon. De to delene gir assosiasjoner til byggeklosser og Rubiks kube; de kan i teorien monteres sammen, og hvis man setter den ene oppå den andre, utgjør de et kvadrat. Den høyeste delen er 2,70 meter. De vernepliktige kan klatre på skulpturen eller sitte på de forskjellige «trinnene», som i en trapp. Slik stimulerer formen til omgang med kunsten, men også videre tenkning.
Camilla Løw (f. 1976) er utdannet ved Asker kunstskole og Glasglow School of Art. Hun er blant annet representert i Hennie Onstads permanente skulpturpark på Høvikodden. Siste utstilling er "Eye in the Sky" ved Kunstnerforbundet i Oslo. Hun har deltatt i en rekke gruppeutstillinger, senest "NN-A NN-A NN-A New Norwegian Abstraction" ved Astrup Fearnley, Oslo og Stavanger kunstmuseum.