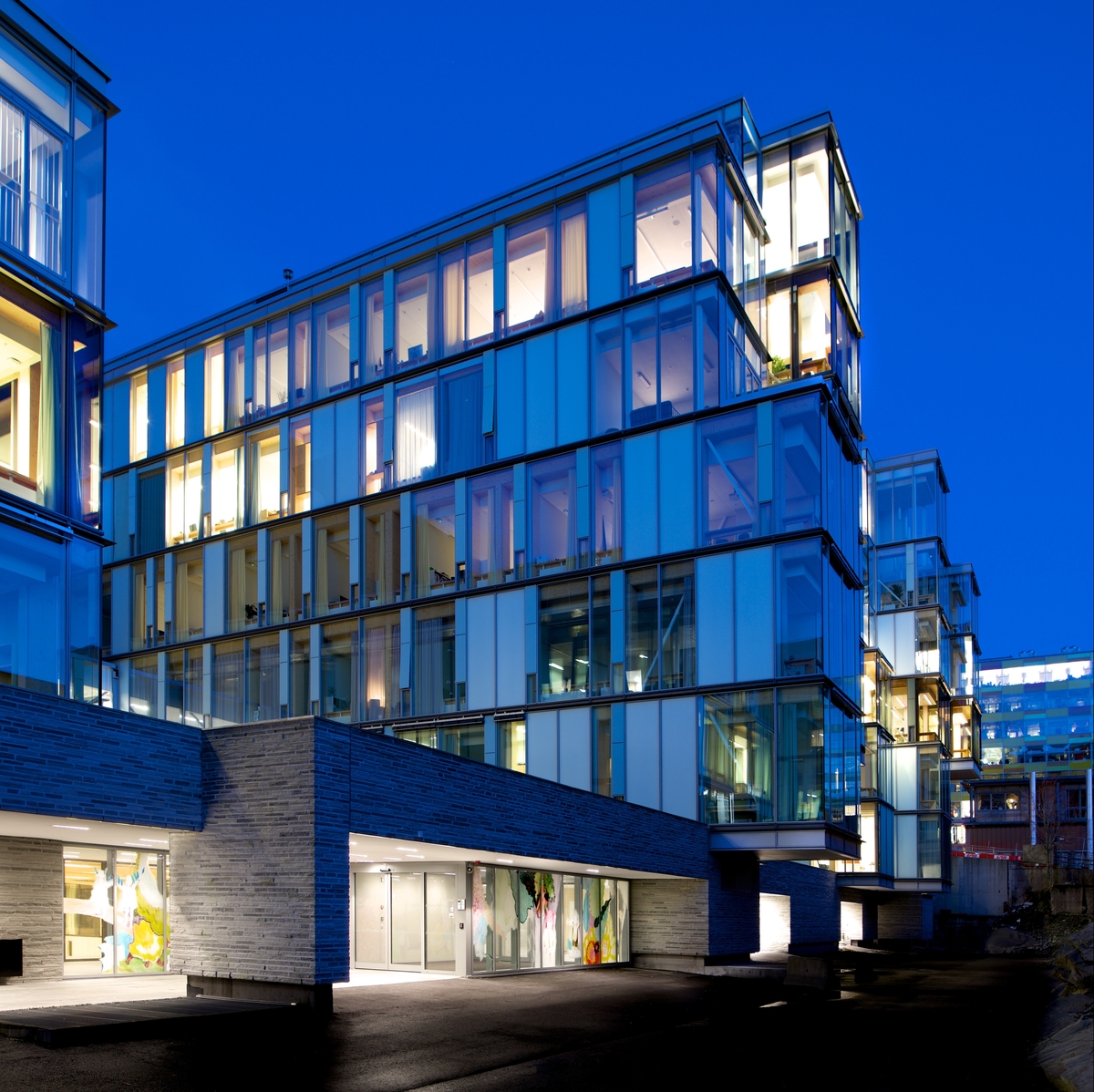 Haukeland universitetssykehus, barne- og ungdomssenter, fase 1
Fargerike verk som inviterer til lek og utforsking er sentrale i kunstprosjektet som er gjennomført for det nye barne- og ungdomssenteret ved Haukeland universitetssykehus.
To nye bygg skal samle alle tilbud innen psykiatri og somatikk til barn og unge ved Haukeland universitetssykehus, og det første står nå ferdig. Kunstprosjektene som er gjennomført for bygget bidrar til en atmosfære av omsorg og ro i et miljø der mange kan oppleve usikkerhet.
I inngangspartiet henger det digitale, lysbaserte kunstverket Colour Clouds av Miriam Sleeman (UK) og Thomas Sloan (AU). Når det er fredelig i lokalet, pulserer to prismeaktige ledlys-tavler sakte i abstrakte fargemønstre. Men når noen nærmer seg og berører tavlene, reagerer verket dynamisk: Fargene på klærne «smitter av» på kunstverket og pulserer med stigende intensitet og tempo til personen går videre.
Anne Knutsdatter Wille (NO) har skapt verket Barn som helter – helter som barn. Hennes vare, fine blyanttegninger er forstørret og overført til glassvinduer ved hovedinngangen og mot svømmehallen. Tegningene er inspirert av drøm, fantasi og gamle folkeeventyr, og inviterer inn i en leken og litt skummel verden.
Med verket Det var en gang har Ida Carolyn Helland-Hansen (NO) laget fargerike mønstre som også fungerer som ledelinjer i gulvet i en av sykehusets sentrale korridorer. Ledelinjene viser vei til rom og avdelinger, men er også et miljøskapende element som kan engasjere de unge pasientene.
I de nyanlagte hagene utenfor pasientrom og undersøkelsesrom har kunstnerduoen Mari Røysamb og Ole Rósen skapt verket Perler: Tre store perler i høypolert stål med ulike mønstre. Skulpturgruppen Invers XI, Invers XII og Invers XIII av Petter Hepsø viser tre ponnier i ulike størrelser , utført i bronse.
Et restaurert keramisk veggrelieff fra 1968 av Frans Widerberg, er satt opp på fondveggen i den nye senterets svømmehall.